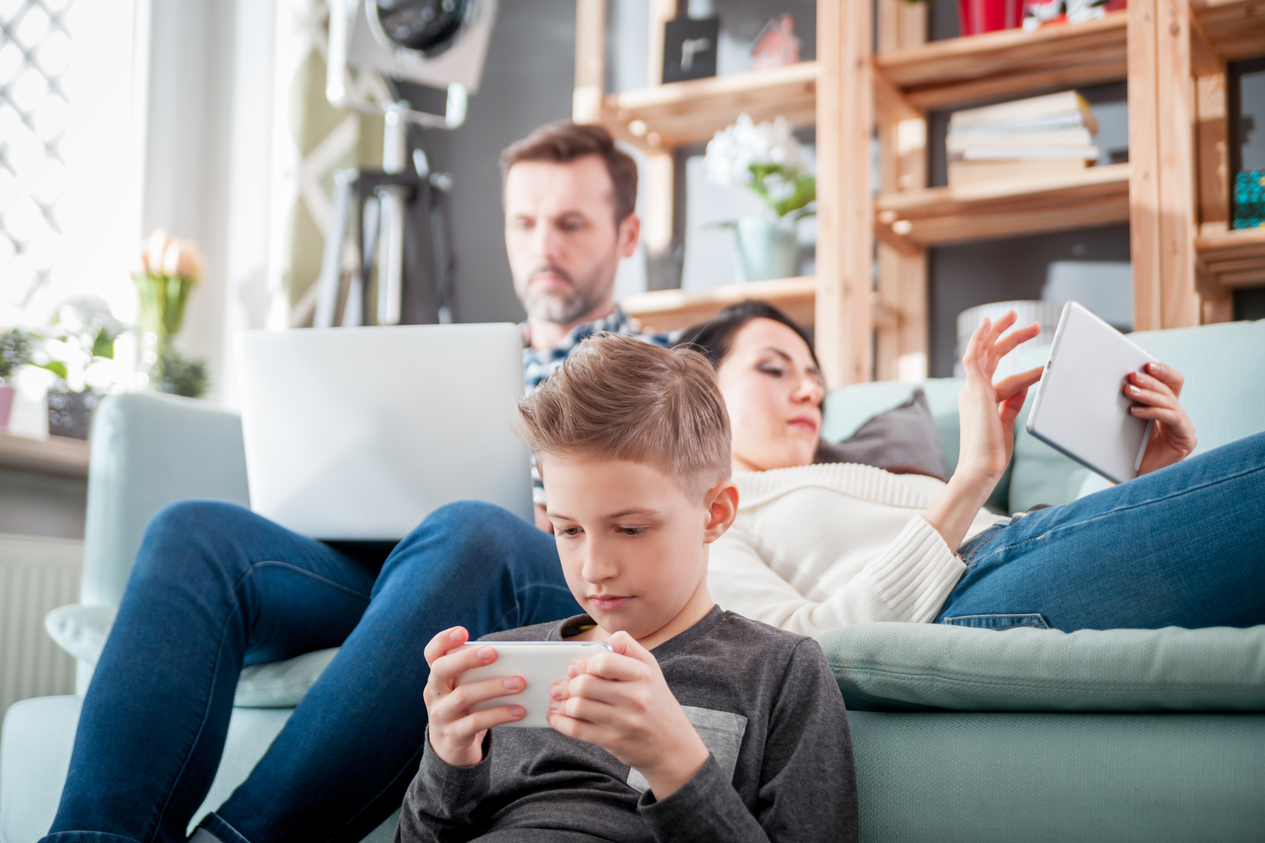 The world of tech has changed remarkably quickly. Even just a decade ago in 2008, iPads, WhatsApp and Instagram were yet to launch and even iPhones were still fresh on the scene. Entertainment, learning, social lives and more have all been transformed in this relatively short space of time. Perhaps it's not surprising then that we're struggling to find tech/life balance in our families.
Of course, screen time battles are not entirely new – plenty of us were told by our own parents that we'd get square eyes if we watched too much television or played endless Pacman. But screens back then were a narrower activity and less all-encompassing. TV could only be watched on an actual TV – lugging a so-called 'portable' set out to a restaurant wasn't really an option! Now it's streamed on a phone or tablet wherever and whenever you like and joined by social media and gaming galore to add to the temptation.
If, like many a modern parent, you're struggling with your kids' tech use – and perhaps even your own – here are our tips on finding some balance:
Don't demonise screens
You might feel endlessly frustrated when you can't get your offspring off YouTube, Fortnite, Instagram or whatever they favour, but screen use isn't all terrible. There are valuable activities we can do online – from learning a language to a video chat with a faraway grandparent. Making tech the 'demon' unnecessarily creates a battleground with your child. It's preferable to acknowledge the good as well as the bad. Let your child know too that you recognise they enjoy gaming or social media but you want to ensure they avoid the potential downsides. This sets the scene for more positive conversations.
Determine some family screen rules
First up consider what needs to change. When are you arguing with your kids the most about all of this? What is causing the most problems for their schoolwork/ sleep/ family relationships and friendships?
Is it that your toddler has a tantrum when you turn the Disney Channel off? Your pre-teen is so glued to YouTube videos that they don't get their homework done, or your teenager is sneaking a look at their phone when they should be asleep?
Every family's rules will be different but having set time limits appeals to a lot of parents. For younger children you could stick with an hour a day – this is plenty when they don't need to be online. For older ones this might not be feasible if they require tech for homework tasks. At this stage, it can work better to split screen activities and have separate limits for recreation (e.g. gaming/ social media) versus functional purposes, such as reading on a Kindle or (genuine) homework research.
Think too about whether there are times of day or situations when you'd like to ban screen use altogether – perhaps during meals, or when relatives visit. Another option is to only allow gadgets after homework or certain chores are completed. A ban on phones/ tablets in bedrooms at night is certainly wise for most children – by insisting they're left downstairs, you remove the option to log in after lights out.
Once you've got an initial idea of the rules you'd like to introduce, sit down as a family and discuss them. Are there any reasonable ones that you or the kids might want to suggest for the grown-ups? Print or write out your new family rules and stick them up on the fridge or similar.
Have clear consequences for breaking the rules
As well as the rules themselves, you also need to have clear consequences if your children break them. Most effective is simply reducing their screen access further if they can't stick with what's been agreed. You'll need to be prepared to follow through with this though, even if it means much whining and being told 'I hate you' by your child. Remember that parenting is about doing the right thing for your kids not being popular.
Watch your own screen time
It works both ways – studies show that parental over-use of screens can harm children's development. This makes sense instinctively – dads and mums who are constantly distracted by their phones are going to have less quality interaction with their kids. It's also easy to see how a parent who's glued to their gadgets might lead their child into attention-seeking behaviours and tantrums. Finally, our kids learn and copy us – if you're forever checking messages mid-conversation, it's hard to complain if they do the same. So be aware of your own screen use patterns. Could you power down at certain times of the day? The first hour when they're out of school in the afternoon and the last hour before their bedtime for example.
Use tech to manage tech
New 'parental control' services and apps are launching all the time, designed to help manage family screen usage and enhance online safety. Check what parental control options are available on both the gadgets themselves and via your broadband provider.
Apps such as SafetoNet (https://www.safetonet.com/) are worth considering to help manage what your child can access and when. Apple's new Screen Time tool also lets you check how kids are spending their online time and means you can block usage of particular functions for set periods.