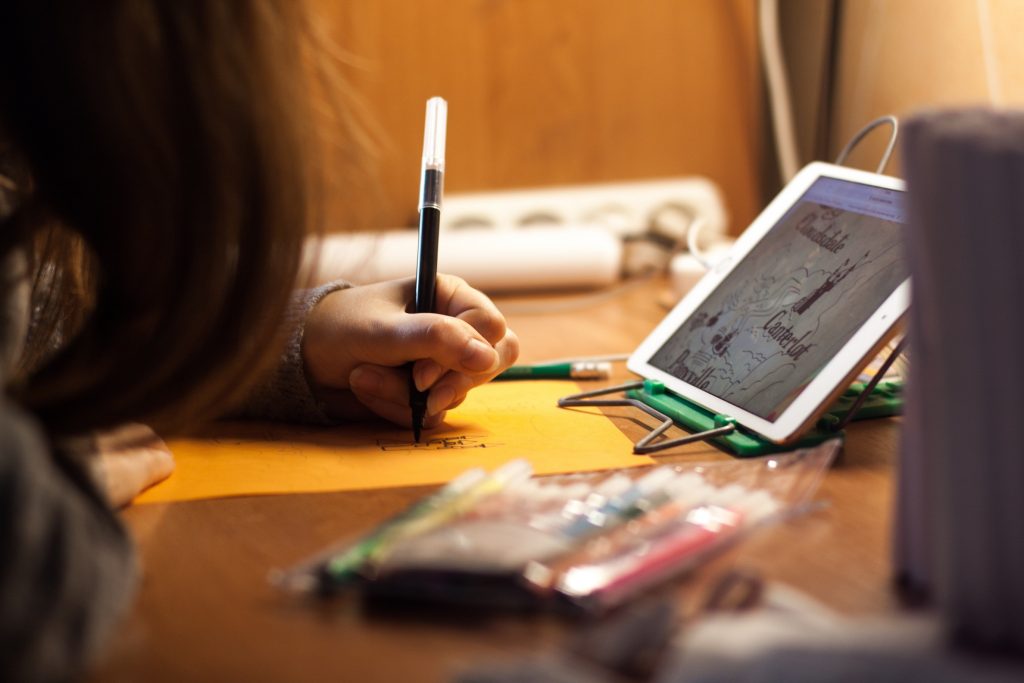 When my 13-year-old daughter Clio gets home from school, a minor miracle happens.
She walks through the front door, kisses me on the cheek and tells me how her day has been.
Then, on the way to the kitchen for a snack, she drops her phone off in a basket in the hallway.
It's the last bit that's miraculous because when she first started secondary school nearly two years ago, it was a daily struggle to get her to hand it over.
Simply telling your child to get off their phones "because I say so" won't persuade them by itself. They will only ever really learn if they work out how much is too much for themselves.
When Clio was encouraged to ask herself how she felt, and realised that 24/7 access to her smart-phone didn't make her as happy as she expected, it was then she decided to set limits her own limits – and my job as a parent became easier too.
Here's how to help your child do the same:
Talk about tech use as a health issue
At neutral times – in other words at moments when you are not rowing over screen use – talk about taking breaks from the constant phone notifications and social media and explain how it is just as important to wellbeing as getting plenty of sleep, exercise or eating healthy foods.
You can broach this discussion in the following way:
See if your child/children can answer these questions: Why do you think getting sleep is important? Why do you think healthy food is better for you? 'Why do you think your school wants you to do PE lessons?' and put the emphasis on making it a fun two-way conversation.
This will make for an interesting, engaging dialogue while encouraging your child to come up with the answer for themselves.
From a technical perspective, brands are also helping us switch off from our devices – a recent example of this is the Android 9 which includes software introducing a new way to track usage of apps and lets limits be set, including the removal of colour from the screen at a chosen time of the day.
Talk about your own tech use
You are always your child's most important role model.
Children and teens learn by watching us, their parents. Talk about how you limit your own tech use and why: "I made the decision to turn off my devices before you arrive home from school, so I can spend quality time with you and you can talk to me about anything without me being distracted by work."
Let them hear you talk about your decision to turn off your phone so you can spend some uninterrupted time with them, or why you switch on your out-of-office replies at weekends, so you can really relax: "The reason I don't answer emails at weekends is because of how important it is for us to spend time together as a family."
Parenting educator Noël Janis-Norton, author of Calmer, Easier, Happier Screen Time, says children and teens have become more difficult to handle because most now have some level of screen addiction which can result in them becoming "sullen, uncooperative and argumentative…they see parents as less worthy of respect because the addiction becomes the important thing."
She says, "The brain wants more of the addictive activity, so children will argue, pester and lie to get what they want. If they have to earn their screen time they will respect their devices and they will respect you."
Practicing what you preach, while allowing them to earn their screen time, is an effective way of overcoming this resistance.
3. Talk about FOMO
Children and teens may feel they are addicted to their phones. In fact they are addicted to knowing what their peers are up to.
They are also driven by FOMO – Fear Of Missing Out.  Many social networks are set up to trigger this worry, with add-ons like locations maps which show where their friends are, or 'streaks' in which they are rewarded with emojis for constantly returning to their social networks. Helping your children understand about how their insecurities can be triggered by social media will see them more likely to be able to resist this pull.
As well as reminding your children that their friends will still be there to catch up with when they arrive at school in the morning, consider introducing them to one or more of these apps to reduce FOMO. These are great for parents as well as children – using them together will ensure you're setting the right example: