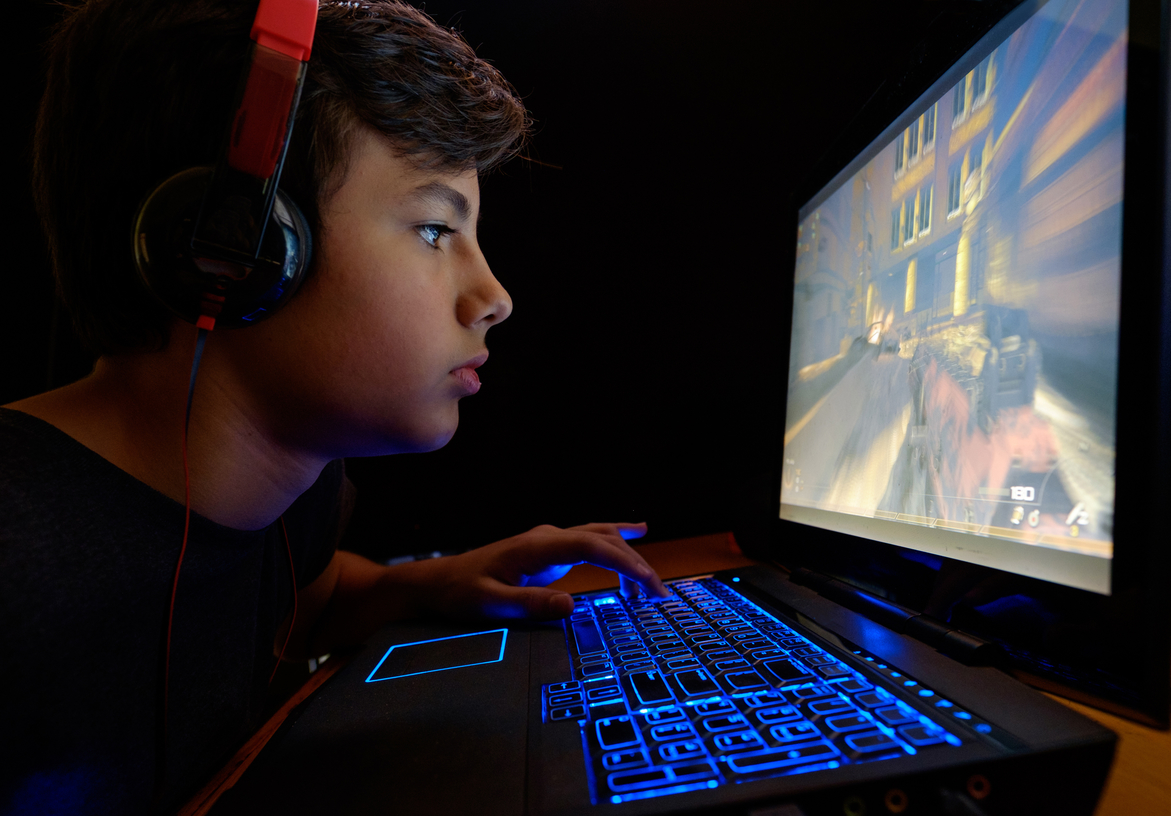 When it comes to online gaming, children see it as a great way to have fun and relax. While many of us parents fret about the length of time our kids spend playing on the Xbox or Play Station, there is in fact a bigger threat we should take note of – online safety. There is unfortunately a downside of social interaction with strangers that can place your child at risk of cyberbullying or contact from potentially dangerous strangers.
Stay ahead of the game! Make sure you and your children are aware of the possible dangers of talking to strangers online.
The Don't Talk to Strangers advice taught generations of children to fear strangers. As much as the message may be frowned upon these days, it is more relevant than ever when it comes to kids and online gaming. For as much as you hope your youngster is playing innocent child-friendly games, there's a darker, more intense side to gaming – and it happens when kids connect and play online. Relaxing after school on the Xbox or PS4 is just one side of the gaming world but by playing online, there is a possibility that your child can communicate with others who may not be their friend.
For young children, make it policy that they can only play with people you both know
Typically, a gamer will need to wear a headset to talk to other players but there is also an online chat option which involves sending messages to other players during the game. And this is where the problems of danger stranger come into effect; in the virtual world (unlike the real one) they have no idea who they are playing with. While the game may seem like an innocent digital playground for children, there are some frightening issues with its online community that strikes fear within many a parent. As much as we can be "on top" of our kids and tuned in to what they are doing online, it is no surprise to hear that children are still susceptible to being targeted by online predators.
Ensure your children know to avoid giving out personal details that could identify them or their location!
As a parent of three sons I am very aware of the fact that many gaming environments are moderated but that's not to say that some of the communication taking place may be unmonitored. I've learnt through my own experience that my kids often talk to others through their gaming consoles but it is always their friends. Although I can understand that gaming with strangers can be very enjoyable if most of the conversation is about the game itself, there's always a risk. The thing that makes gaming with strangers dangerous is when they get to know too much about you. If you share too much personal information, they can start to be able to piece you together and that is when problems begin.
Check the games content before allowing your child to play. You may choose to play the game yourself so you understand what is involved
Like any online multiplayer game, there is little control over the types of people or age limits of those playing the game and sadly, in the online gaming world, wherever games are marketed to children, online predators lurk. Social games are often used as a means to lure children away from the game and onto other social media sites such as Facebook and Skype!
With limited safety measures embedded within the game, children are open prey for predators to communicate with. Learning what to look out for when picking a game for your child can play a huge part in protecting them. Some of the best ways to find a suitable game is to read reviews from other parents, choose free games, check the rating, control game time and pick a variety of games to appeal to all their interests. Family educational games are a great starting point and there are lots of them available.
Learn together ways in which you can mute and report a conversation
Being able to chat with friends is a key attraction of playing online, so when it comes to keeping your children safe turning off the chat options is not always an easy option. Our challenge as parents is to keep an open line of communication with our kids, ensure they understand the rights and wrongs of online gaming and to make them aware of the risks of cyberbullying and the ways in which to report it should it happen to them.
Put in place some technical tools to protect your child
If you want to feel extra confident that your child is gaming safely online there are some technical devices you can put in place. As well as ensuring the privacy settings on the device they are playing with are turned on (e.g. they can play with friends and not strangers), it is worth installing anti-virus software that is designed to prevent, detect and destroy malicious files from the gaming device. Also – it may sound over-cautious – but if you are at all concerned that your child may be speaking to a stranger online without you knowing, installing a CCTV system may be worth your while.