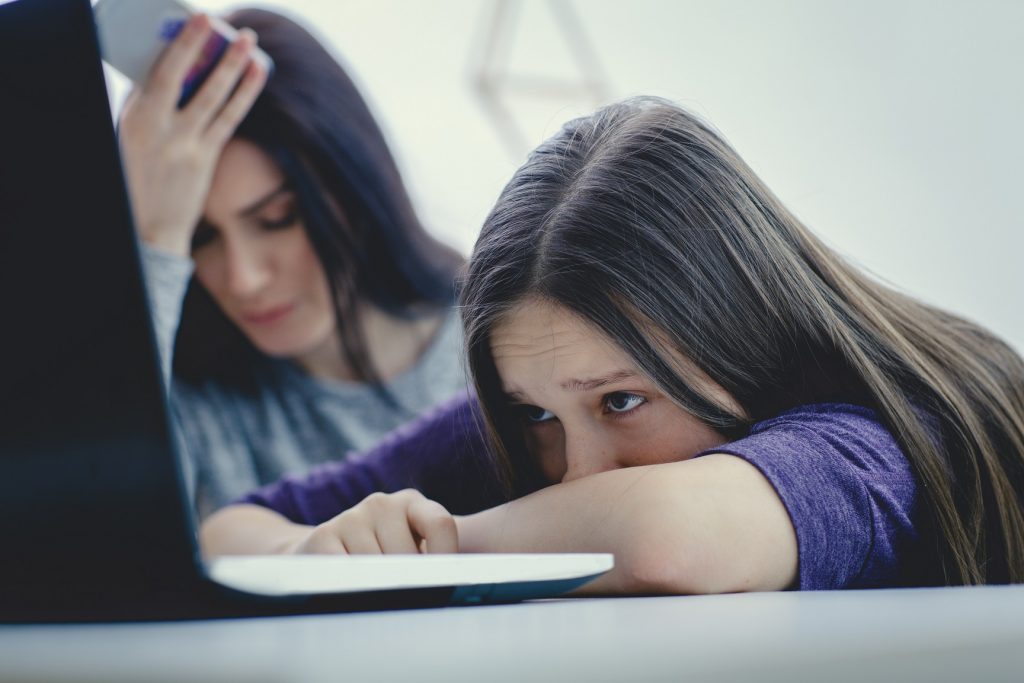 Bullies have of course always been around, but the use of technology gives them a larger platform through which to strike – this is where the term cyberbullying comes in. This is when a person, through the use of a digital device such as a mobile phone or computer, performs an action that can harass, threaten, embarrass, or just simply target another person.
More often than not, when it comes to young people, cyberbullying can be easy to spot — for example, if your child shows you a cruel text, disturbing image or a message on Facebook. Other acts are less obvious; like impersonating a victim online with the sole intention to harass and bully.
Sadly statistics show that cyberbullying is on the rise, so it is even more paramount that parents and children understand the implications of it and what help is available should they experience it. According to Childline, run by the NSPCC, in 2016/17 the charity delivered 5,103 counselling sessions about cyber-bullying – a 12 per cent increase from the previous year. Name-calling, spreading rumours, death threats and blackmail posted publicly on social media profiles, blogs and online pictures were just some of the ways young people told counsellors they were being tormented.
NSPCC's consumer media manager Harry Watkinson advises: "Our advice to parents if they think their child is being bullied online is firstly to make sure they know they can come to you for help. Help them relax and take time out, away from electronic devices and talk to your child's school or club about what's been happening."
Educating people about cyberbullying is very close to the heart of 24-year-old Carney Bonner who was the victim of it ten years ago. Now a mental health and anti-bullying campaigner, Carney speaks out about his horrific ordeal in a bid to help young people know it is not only unacceptable but that there are safe places they can turn to if in need.
"At the age of 14 I found myself a victim to cyberbullying. I started to receive messages on Facebook telling me to kill myself and that I was nothing. At first, I thought it was a joke, but I was wrong and soon started to believe what was being said about me."
As a result of the continued abusive messages, Carney became withdrawn from school life, family and friends. He began self-harming and even considered taking his own life, unable to know where to turn to for help. Fortunately, a close friend encouraged him to get help and Carney has turned his life around in the most courageous way.
As well as campaigning with local and national charities around mental health awareness, Carney has made different documentaries both in the UK and overseas to show people that having mental health issues doesn't mean the end. He has also been a prominent figure at Fixers – a platform supporting young people who can draw from past experiences to help others.
"I feel that cyberbullying isn't as widely understood as it should be," said Carney. "Considering its prevalence in today's society, I think it's important that young people know how to cope with online abuse, and know how to stay safe on the internet."
For parents looking for more information on cyberbullying and for kids needing to talk to someone or get advice, there are plenty of places to turn to for help, including some of these below:
Childline is a service offered by the NSPCC and provides counselling for kids effected by cyberbullying. It employs trained counsellors who are experienced in cyberbullying who you can talk to if you believe you are a victim of it or if in fact you are responsible for bullying someone yourself. You can get in touch with by emailing help@nspcc.org.uk or calling 0808 800 5000.
Fixers is a website of young people [fixers] using their past to fix the future. It is a fantastic online tool covering all topics of interest affecting youngsters, including cyberbullying. Fixers is a movement of young people tackling issues they feel strongly about to make a difference and features inspirational stories of youngsters who have experienced cyberbullying. If you want to contact Fixers, e-mail talk2me@fixers.org.uk or telephone 01962810970.
Internet Matters is a not-for-profit organisation that has a simple purpose – to help keep children safe in the digital world. Aimed at parents it is a really informative site to help you understand what your child may come across on the internet and how to get help if you need it.
Although it does not have a direct email/contact number it works closely with the charity Family Lives that offers a free confidential helpline service. To get in touch with them, call 0808 800 2222.
Stop Bullying Now! is a website sponsored by the US Department of health and human services that addresses the warning signs of bullying and how to report cyberbullies. It offers a 24-hour helpline at 1-800-273-TALK (8255): http://stopbullyingnow.com/.